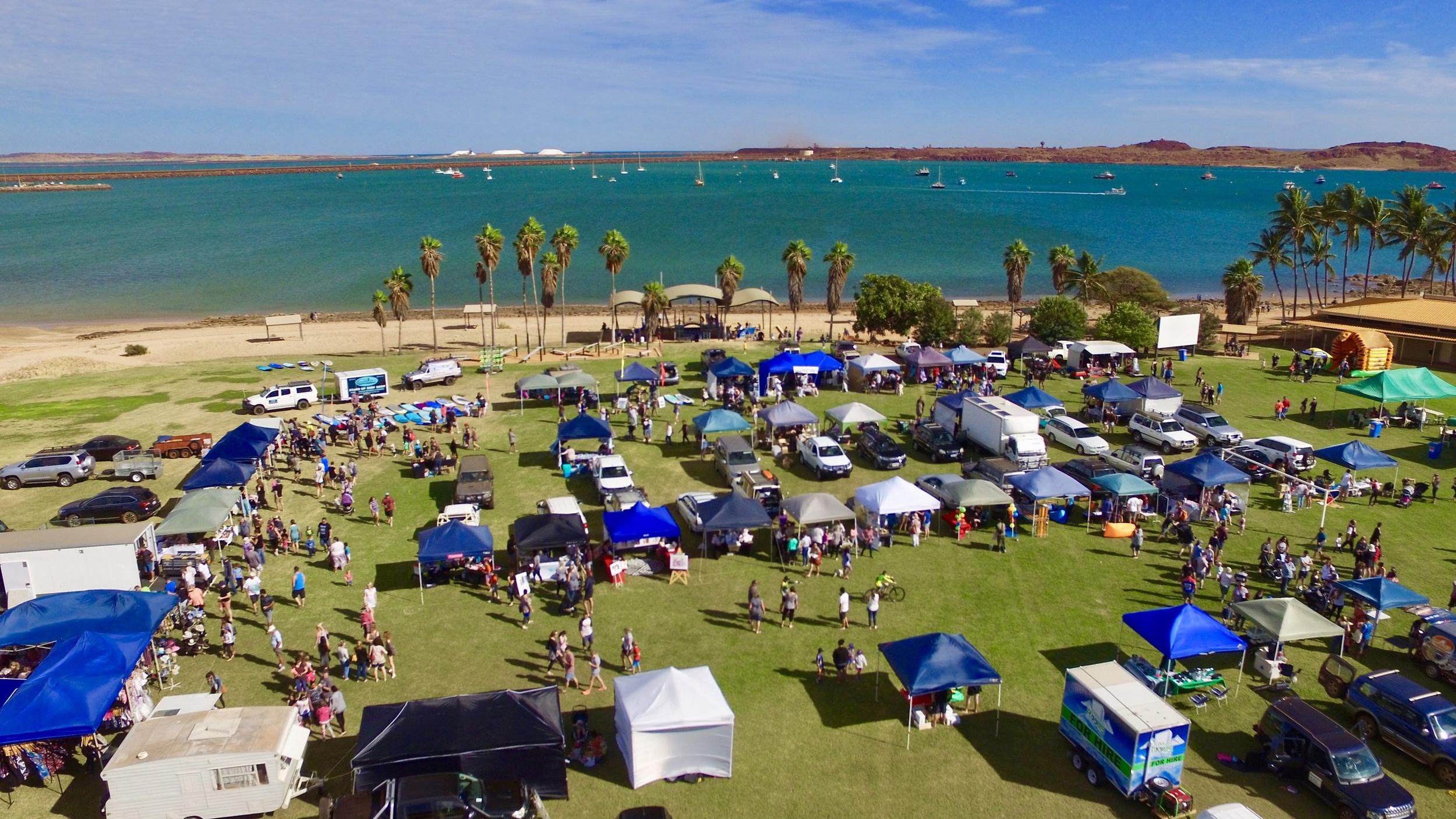 Come along and enjoy the relaxed vibe at
DAMPIER BEACHSIDE MARKETS
The Dampier Beachside Markets are held monthly at the picturesque Hampton Oval on The Esplanade. The markets take place in the cooler months from April to October, usually on the first Sunday of every month. Special Twilight Markets are also held later in the year; one in November in conjunction with Hampton Harbour Boat & Sailing Club's Guy Fawkes Night celebrations; and a Christmas Markets & Movie night held in December.
These markets bring together local businesses selling a vast array of product types, a great variety of food vendors and live entertainment. There is something for everyone at the Dampier Beachside Markets! Each market generally attracts around 50 stallholders, showcasing everything from gourmet food, children's clothing and toys to eco-friendly cleaning products, and of course a good 'ol sausage sizzle!
This free community event is presented by the Dampier Community Association (DCA) and made possible through funding from the City of Karratha. Face painting, a jumping castle and live entertainment, all free of charge, make for a relaxed, friendly and affordable family event.
Community and Not-for-Profit groups are able to attend for free and provide a sausage sizzle (or other food type). Spaces are limited so please enquire if your community group would like to be involved.
The DCA contracts local event company Wrapped Creations to manage the markets and coordinate all stallholders and vendors. Please read the Markets FAQ sheet by clicking on the link below, and contact Wrapped Creations for any further information. Registrations can be made through the tabs below.
Sunday, 7th April - 8:30am to 11:30am

Sunday, 5th May - 8:30am to 11:30am

Sunday, 2nd June - 8:30am to 11:30am
Sunday, 7th July - 8:30am to 11:30am
Sunday, 11th August - 8:30am to 11:30am

Saturday, 7th September - Red Dog Festival - 5:30pm to 8:30pm
Saturday, 5th October - 5:30pm to 8:30pm
Saturday, 2nd November - 5:30pm to 8:30pm

Saturday, 7th December - Christmas Market - 5:30pm to 8:30pm
Registration
PLEASE NOTE: Registrations close at 4pm on the Tuesday prior to each Markets, and late registrations can not be processed.
If you have a question, please read our FAQ's here or contact Wrapped Creations via info@wrappedcreations.com.au or call 9144 4204.